As an authorized Rust Check Dealer, we offer the best protection for the second largest expenditure most people will make - their vehicle. Rust Check has been time tested and proven for over 40 years and offers a lifetime, unlimited mileage, unlimited ownership warranty. Ask today for more details!


WHAT IS RUST CHECK?
Rust Check is a light oil-based electrochemical liquid, formulated to penetrate into crevices and seams by capillary action (where light liquids are drawn into crevices, even upward against gravity.)
Coat & Protect is a thicker version of Rust Check, with the same active ingredients. Its thickness gives it good wash and wear resistance.
All Rust Check products are safe and environmentally responsible - the main ingredients in Rust Check products are highly refined (purified) mineral oils.
WHY YOU SHOULD APPLY RUST CHECK
Vehicles are subjected to thousands of spot welds, as well as numerous bends and folds during production. These processes damage the pre-coated metal, allowing exposure to the corrosion process.
Corrosive salt and damaging moisture penetrate unprotected inner panel seams, depositing corrosive contaminants that will destroy metal over time.
The corrosion not only affects the appearance of your vehicle, but can also attack the joints and spot welds that hold your vehicle together, resulting in a structurally unsafe vehicle.
HOW RUST CHECK WORKS
Eliminates moisture, creeps into seams and crevices, bonds to metal (the corrosion inhibitors form an absorbed, bonded layer on the metal surfaces.)
This microscopic layer acts like a series of tiny umbrellas, shielding the surface from water molecules.
Once inside the crevices and seams, Rust Check dispels moisture and keeps it from penetrating, thereby inhibiting the corrosion process.
WHAT IS TREATED?
Inside of doors, front and rear quarter panels, hood and trunk lid - treated to protect against rusting from the inside outward.
Engine compartment, trunk, trim, and undercarriage also receive complete treatments.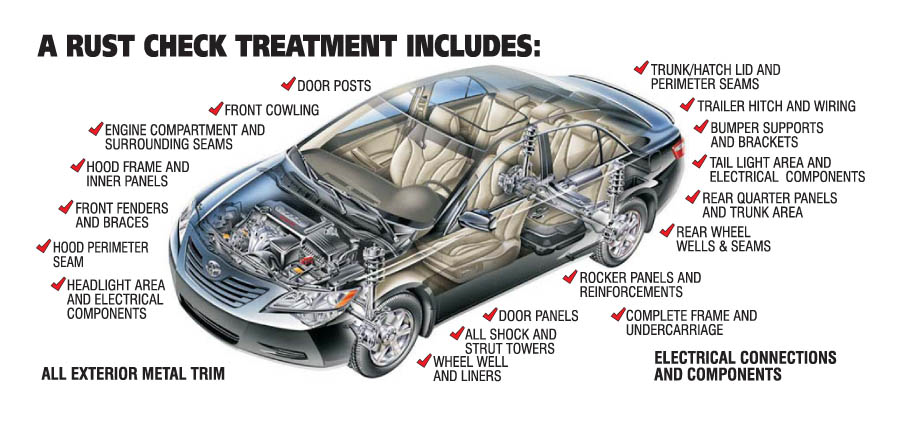 THERE ARE TWO MAIN CATEGORIES OF AUTOMOBILE RUST PROTECTION – THOSE BASED ON OIL-BASED ELECTROCHEMICAL, AND THOSE BASED ON SEALANT.


WHAT IS THE DIFFERENCE BETWEEN RUST CHECK AND OTHER SEALANTS?
Rust Check - Oil-Based Electrochemical
Non-drying, it remains mobile and won't dry out, crack, or peel.
Penetrates into welded seams and crevices and provides excellent protection for these corrosion-prone areas.
Does not need shiny clean metal surfaces for application and good adhesion.
Lubricates as it protects against corrosion.
Does not contain smelly and toxic petroleum solvents.
Reapplied every year to maintain a high on-going level of protection.
Will not damage painted surfaces and can be easily cleaned off painted surfaces.
The electrochemical compounds displace moisture, penetrate and treat crevices and seams and contain self-healing properties – while Rust Check will not reverse existing corrosion damage, it will slow the progression.
The only two-product process on the market - this application process is designed to provide highly effective corrosion protection.
The Coat & Protect provides the required protection for your vehicle undercarriage (it is a thicker version of Rust Check,) and eliminates dripping from the undercarriage, but does not harden.
Rust Check can be applied at any time of year, in any type of weather.
Lubricates power window and door lock mechanisms, prevents seizing of nuts, bolts, and fittings, and helps to eliminate squeaks and rattles ensuring hinges and cables operate smoothly.
Sealant Products
Contain tars, waxes, or polymers.
Usually applied on a permanent 'one-time' basis, sometimes with annual inspections or touch ups.
Mainly sold by new car dealers.
Sealants provide a barrier between the metal and the environment, restricting contact of water and oxygen with the metal.
In order to be effective, the sealant coating must remain intact. Consequently, sealant coating relies on good adhesion to the surface onto which they are applied.
Sealants are best applied to new metals or freshly and thoroughly cleaned and dried metals. If applied to corroded or wet surfaces, they may not adhere properly to the surface.
Sealant products do not last forever; the typical warranty is 10 years.